Ministry of Transportation Physical Exams
---
Please book online if possible.
If you are unable to book online please call 807 345 1191 x 4 or email travelheath@janzens.ca to request a callback
You will not be able to request other dates or times other than what is available online
Effective November 1, 2022 we require pre-payment for appointments regardless of how they are booked
---
How to Book an Appointment Online?
Click Online Booking Portal Button Above

Click on Services (see image below) and select Driver's Medical Examination
Click on 'Next Available' button to see the next available dates and select a time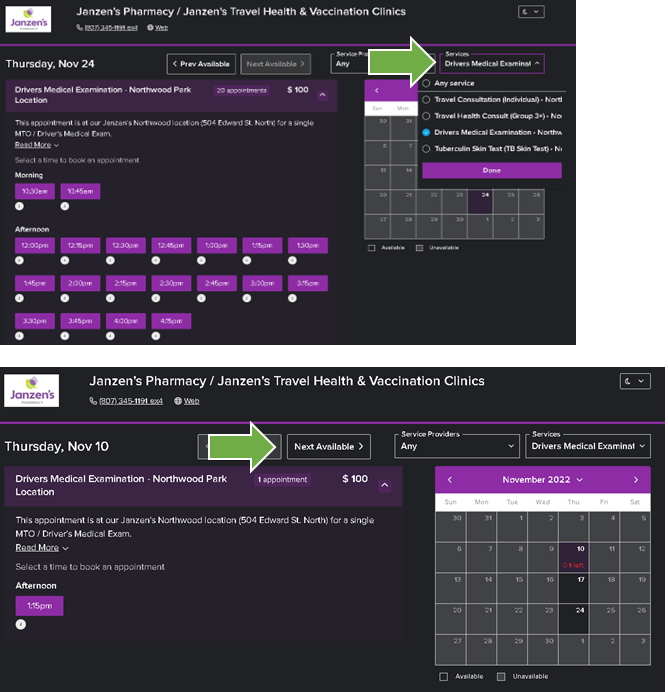 ---
Once you obtain your class A-F licence, you will need to get a new MTO Medical exam every few years depending on your age.
Individuals younger than 46 years old:

every 5 years

Individuals ages 46-64:

every 3 years

Individuals 65 years and older:

every year
This information was obtained from the Ontario Government webpage.
Ontario residents who have or are applying for a G class licence do not need to complete an MTO medical exam unless one is requested by the MTO.
Individuals with particular health problems may be required to pass an MTO Physical Examination before operating their vehicle.
---
What to bring to your appointment?
Your licence (including out of province licence for those transferring to Ontario)
Your medical examination forms
A current list of medications including names, strength/dosages
failure to bring a current medication list will result in an inability to complete the medical
---
What happens at a medical exam?
You will be asked about your general health and specific information about your conditions
You will have a general assessment including height, weight, blood pressure
You will have a Snellen visual examination
You will be required to provide a urine sample for analysis
Additional assessment may be required
All information obtained will be provided to the Ministry of Transportation as required by law
---
Fees & Terms Of Service
Our current fee for completion of a Driver's Medical Examination is $88.50+HST ($100.01 taxes included)
Effective November 1st, 2022, following increased missed appointments and increased demand, we require pre-payment to hold an appointment
You may cancel your appointment up to 24 hours prior to your appointment time for a full refund
You may reschedule your appointment up to the time of your appointment at no cost
If you fail to cancel or reschedule your appointment prior to the appointment time and do not attend, we will not offer a refund or reschedule appointment
The fee is payable for the completion of the medical forms, the Ministry of Transportation may not accept the suitability for any driver for a commercial licence.
Completion of additional documentation after the initial medical exam is subject to additional fees (such as selection for a specialty cardiac assessment following the medical)
We only complete additional documentation for those medicals we have completed ourselves